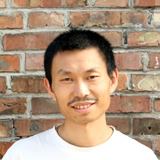 Qiu Anxiong
Born in Sichuan, China, 1972
1994 – Graduated from the Sichuan Art Academy, China
2003 –Graduated from Kunsthochschule of University kassel, Germany
Work and live in shanghai now.
Solo Exhibition

2014
"E-Motion",Enrico Navarra Gallery, Paris
"Qiu Anxiong" Wooson Gallery, Daegu, Korea

2012
"Historical Landscape", Marabini Gallery , Bologna, Italy
2011
"Animated Narrative"Crow Collection of Asian Art Museum, Dallas, Texas, U.S.A
"Zoo", OCAT  Contemporary Art Museum, Shenzhen
"Protrait – Cover and Clean", Marabini Gallery, Bologna,Italy
2010
"Zoo", Boers-Li Gallery, Beijing
Qiu Anxiong: New Book of Mountains and Seas - Spencer Museum of Art,  Lawrence, KS,U.S.A

2009
"Utopia", Arken Museum of Modern Art, Copenhagen, Denmark
"Nostalgia", 4A Gallery, Sydney, Australia
" About <New Book of Mountains and Seas>,Boers-Li Gallery, Beijing
" Temptation of The Land", Barbara Gros Gallery, Munich, Germany
2008
"Nostalgia", Bund18 creative Centre, Shanghai

2007
3rd Lianzhou International Photo Festival, Lianzhou
"Staring into Amnesia" Universal Studio, Beijing
Qiu Anxiong Exhibition, Museum of Contemporary Art Tokyo. Japan
"Minguo Landscape", Grace Li Gallery, Zurich, Switzerland

2006
"Animation and Painting by Qiu Anxiong", Hanart TZ Gallery, Hong Kong
Qiu Anxiong selected works, 37SECONDS PROGRAMME SEVENTEEN, Big Screen Liverpool, UK

2005
" Decoding Time-Shredding Narratives", mixed median exhibition, Bizart Art Center, Shanghai

2002
"Painting by Qiu Anxiong", Hanart TZ Gallery, Hong Kong

Selected Group Exhibition:

2014
"Gast Räum2014", Public Art in Zurich, Zurich City
"Pandamonium-Media Art from Shanghai"Momentum Art Space, Kunsthaus betanien Berlin
"Performance",Momentum Art Space,Kunsthaus betanien Berlin
"Re-View"Long Museum, Shanghai
"Social Meditation - Goodman from Sichuan" performance project of Museum of Unknown, Germany Culture Center Shanghai

2013
"Ink Art, Past as Present in Contemporary China", Metropolitan Museum of Art, New York
"Reading", Leo Xu Project, Shanghai
Public Project in Bahnhof Zurich, TableauZurich
The Origin of Dao: New Dimensions in Chinese Contemporary Art, Hong Kong Museum of Art
The Moment, We Awe , Hokgojoe Gallery, Seoul, South Korea
"Lent Art", Museum of The Unknown, Shanghai Contemporary Art Museum(Power Station),  Times Art Museum , Guangzhou

2012
Nostagia, East Asia Contemporary Art Exhibition, Shanhai MOCA
Social Meditation, Museum of Unknown Aike Gallery, Shanghai
Diversity in Harmony, 5Art Gallery, Guangzhou
The 6th Asia Pacific Triennial of Contemporary Art (APT6) Queensland Art Gallery, Brisbane, Australia
1st Animation Film Festival Xi An, Xi An
Shadow film festival, Paris
4th Ink Painting Art Biennale Tai Pei
Wandering Eyes-Video Art from Shanghai, Landesgalerie, Linz, Austria
Ink Painting Exhibition from China, Art Museum of Hubei, Wu Hang
See/Saw, project of Museum of Unknown, UCCA Art Museum, Beijing
1st Animation Biennale Shen Zhen, OCAT Art Center, Shen Zhen
OMEN2012-New Chinese Art, Art Museum of Shanghai, Shanghai

2011
Paradise Lost - Istanbul Modern Art Museum, Istanbul
Moving Image in China1988-2011,Mingsheng Museum,Shanghai
Chengdu Biennale, Chengdu
Pattern-Vortex-Encounter, Museum of Unknown, Space Station, CAFA
Museum, Beijing, Time Art Museum, Guangzhou
Oscurita- Collateral event of the 54th   Venice Biennale
Campo SS.Giovanni e Paolo, Castello,Venezia
Coral, Museum of Unknown, MOCA Shanghai
Decoration, Museum of Unknown, Arrow Factory Space,Beijing
2010
29th Sao Paulo Biennale,  Sao Paulo, Brasil
Living in Evolution, Busan Biennale ,Busan, Korea
Nanjing Bienale, Nanjing, China
Artists' Videos - Vancouver Art Gallery, Vancouver, Canada
Chinese Film Days - Stiftelsen 3,14, Bergen
The Seat of Meditation-Museum of Unknown, Art House, Shanghai
Culture(s) of Copy Goethe-Institut Hongkong, Hong Kong, SAR
Trailer - Boers-Li Gallery, Beijing
FAX - Para/Site Art Space, Hong Kong, SAR

2009
In Between Realities and Fiction - Animamix Biennial Beijing Today Art  Museum Gallery, Beijing
City_net Asia 2009 - Seoul Museum of Art (SeMA), Seoul
Shanghype! - Hyde Park Art Center, Chicago, IL, U.S.A
The 6th Asia Pacific Triennial of Contemporary Art (APT6)
Queensland Art Gallery, Brisbane, Australia
2nd Biennale Thessaloniki, Thessaloniki, Greece
"Uncanny world in Volk and Asia Contemporary Art", MOCA Hiroshima

2008
"Other", 11th Cairo Biennale, Cairo, Egypt
Zeichen im Wandel Der Zeit, Chinese contemporary ink painting, Staatliche Kunstsammlungen Dresden, Staatliche Museen zu Berlin
Moving Horizon,UBS Art Collection, The National Art Museum of China, Beijing
5th Media Biennale Seoul, Seoul, Korea
Mediations Biennale ,Poznań, Poland
"We Are The World", contrast gallery,Shanghai
"3 Triennial of Guangzhou, Guanghzou,China
"16 Biennale of Sydney, Sydney, Australia
"Staring into Amnesia", Art Unlimited, Art Basel. Switzerland
"Still&Motion", National Musem of Modern Art Osaka, Japan
"Four Season" China Fine Art Institute, Hangshou
"China Power Station Part3", Museum d'art modern Grand-duc Jean , Luxembourg
2007
"Video Lounge", Kunsthaus Zuerich,  Switzerland
"China Power Station Part2", Arstrup Fearnleys Museum of Modern Art, Oslo, Norway
"Animation Painting" San Diego Museum of Art, USA
"Animated Histories"  Noga Gallery, Tel Aviv, Israel
"Chinese Ink Painting", Guan Shanyue Museum, Shenzhen,China
"Contemporary Visual Art Project SA 2007", The Contemporary Art Centre of South Australia, Australia
"Art Lan@Asia" Yokohama ZAIM ART CENTER, YOKOHAMA,Janpan

2006
China Independence Film Festival, Paris, France
"China Power Station" Battersea Power Station, Serpentine Gallery, London, UK
"restless", Museum of Contemporary Art, Shanghai
6th biennial Shanghai, Shanghai Art Museum
Entry Gate: Chinese Aesthetics of Heterogeneity Moca Shanghai
Twelve CCAA Contemporary Art Awards Shanghai Zhengdai Museum of Modern Art
Yellow Box- Contemporary Art in Chinese Space Shanghai Qingpu Xiaoximen

2005
"Gift", Modern Art Gallery of Hangzhou Normal college
"East Wind – West Wind", The Creek Art Center

2004
"Four Corners" Singapore Tyler Print Institute
"Exhibition of Celebrating 20 Years of Hanart TZ Gallery" Hongkong Arts Centre
"24 Artist from Germany and China", Alexander Ochs Gallery, Beijing
"Mensa" , Alexander Ochs Gallery, Beijing

2003
"New landscapes, New Portraits- Shen Xiaotong, Qiu Anxiong" Hanart TZ Gallery Hongkong
"From China with Art", The Exhibition of Contemporary Chinese Painting, Galeri National Indonesia, Jakarta

2001 "Chengdu Biennial", Chengdu, China

2000
"Tale of two Cities", Asia Contemporary Art, London, U.K.
"The Chengdu Movement", Canvas International Art, the Netherlands
" The Land and See", Hanart TZ Gallery, Hong Kong
1996 "Paintings of Chengdu",Chengdu,China
Collection and Award
2006, Chinese Contemporary Art Award.
Collected with Museum of University Oxford, Kunst Haus Zurich, Astrup Fearnley Musum of Modern Art, Uli Sigg, Michael Sullivan, Jane DeBEVOISE. Carol Appel, Ect.